Brooklyn Supreme was a purebred Belgian Draft stallion with larger-than-average stature. He was a lovely red roan with a flaxen mane and tail.A rare foal was born on the Earle Brown farm near Minneapolis on April 12, 1928.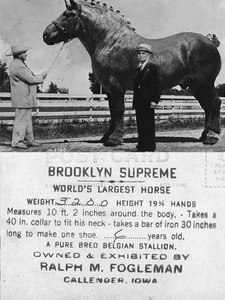 The stallion "had been Grand Champion of his breed at numerous state fairs" before growing overweight. Farceur 7332, another outstanding horse, was one of his great-grandfathers.
Brooklyn Supreme was owned for much of his celebrity by Charles Grant Good of Ogden, Iowa; Ralph M. Fogleman of Callender, Iowa teamed with Good and presented the horse across the US, charging audiences 10 cents to see the animal.
Although disputed, the horse may be the world record holder for largest (but not tallest) horse and was designated the world's heaviest horse.He stood 19.2 hands tall and weighed 3,200 lb with a girth of 10 ft 2 in . Each of his horseshoes required 30 in of iron.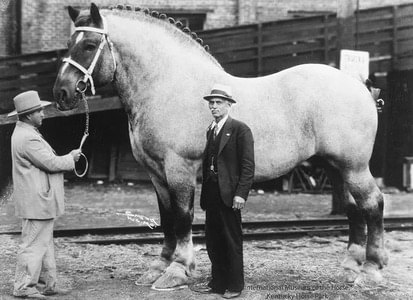 Like most draft horses, Brooklyn Supreme had a calm and docile nature and was remarkably easy to work with. He was a gentle giant in every sense.
An old newspaper clipping says the following about Brooklyn Supreme:
"Brooklyn Supreme may be 3,200 pounds of solid, magnificent horse flesh, sinew, and brawn, but Brooklyn Supreme is a surprisingly gentle fellow whose greatest delight is stealing ice cream cones and goodies from unsuspecting little boys and girls."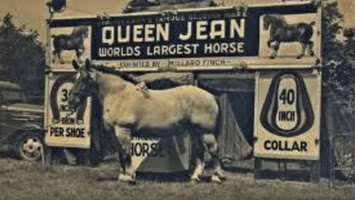 you can watch video below: