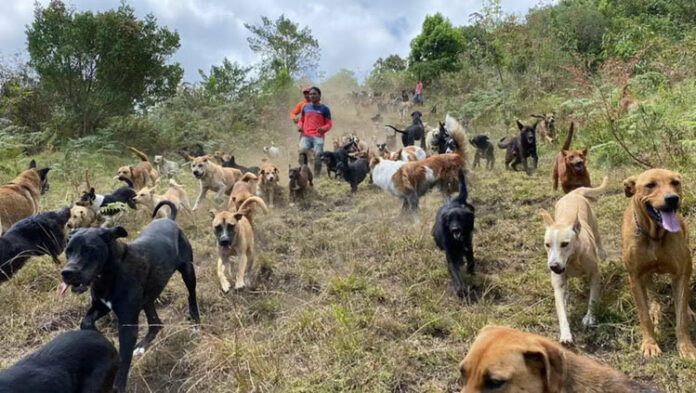 Imagine a place where you can hike through lush Costa Rican mountains with not just a few, but over 1,800 dogs as your companions. Sounds like something out of a dream, right? Well, it's real, and it's called "Territorio de Zaguates," which translates to "Land of the Strays." This incredible sanctuary is nestled in the picturesque Costa Rican mountains and is a haven for dogs in need.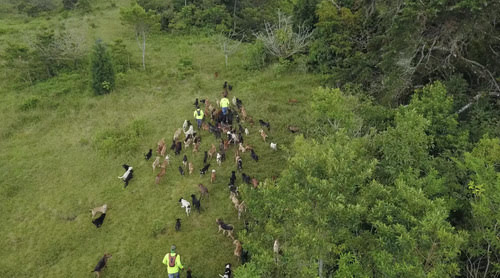 Around 17 years ago, Lya Battle and Alvaro Saumet embarked on a mission to help the street dogs of Costa Rica. Their journey began in a modest two-bedroom house, but their compassion quickly outgrew their living space as they rescued more than 100 dogs. It was then that Battle's grandfather's 370-acre mountain farm became their new haven, and they relocated their rescue efforts there.
As local shelters closed down, they entrusted their dogs to the care of Land of the Strays, leading to a remarkable growth in the sanctuary's canine population. The sanctuary's efforts gained recognition worldwide, and now, it's home to well over 1,000 dogs.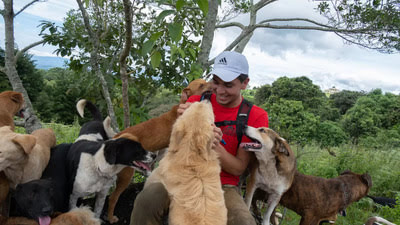 Lya Battle shared, "We are a temporary home for hundreds of puppies looking for a second chance, so most of our dogs are adoptable (nationally and internationally); but we are also the permanent home of many others who may never find their own family because of their looks, age, or special needs."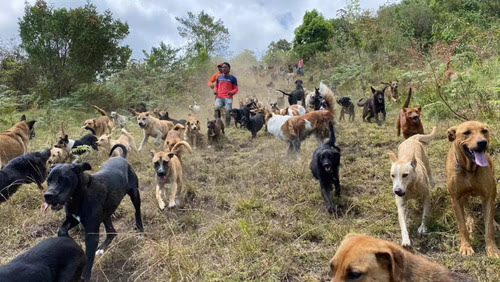 Wandering through the sanctuary's property is like stepping into a paradise. There are sprawling fields for the dogs to frolic in, mountains to hike, and, wherever you go, you're greeted by the wagging tails of a dozen eager canine companions. The dogs get to enjoy about three runs/walks a day, each lasting about three hours. These excursions involve dashes up the mountain, playful romps in man-made ponds, and plenty of dirt to roll around in.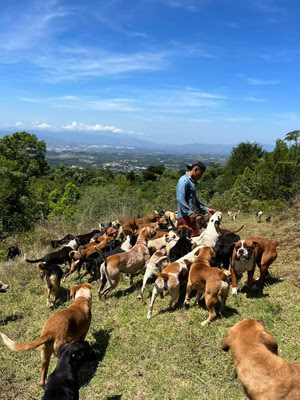 The dogs at Land of the Strays naturally form smaller packs led by caretakers. These devoted caregivers become the "alphas" for the dogs, and even in the vast open spaces of the sanctuary, the dogs prefer to stay close to their human friends.
The sanctuary also has dedicated areas for senior dogs, special needs dogs, and those who need a bit more solitude. Some long-time residents have built a strong bond of trust with their caretakers and are allowed to explore the property on their own, knowing they'll always return to their corrals.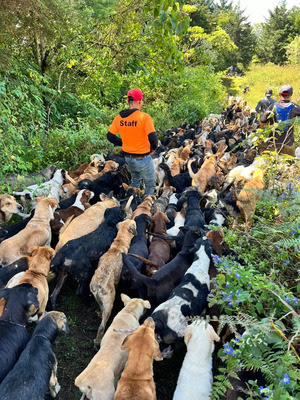 One of the most charming aspects of Land of the Strays has been its open invitation to the public to visit and embark on hikes with their furry residents. However, this open-door policy faced a setback when government authorities imposed restrictions and demanded infrastructure improvements.
Lya Battle explained, "A couple of years ago, the government authorities prohibited us from accepting visitors, and gave us a list of infrastructural requirements to keep functioning that, at the time, seemed impossible to meet. However, with a massive effort, we began the renovations and completely transformed the farm … We're now struggling to finish most of the construction projects to hopefully open our doors to visitors and volunteers by next year."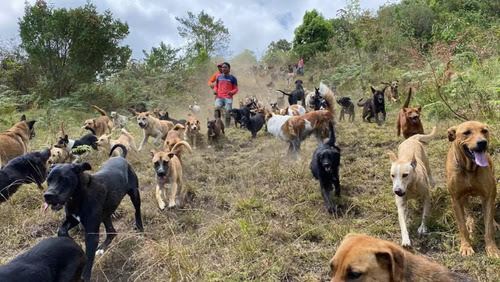 The sanctuary relies solely on donations, which can sometimes pose challenges. However, their unwavering commitment ensures that every dog receives the care and attention they deserve. As Battle puts it, "Sometimes we are forced to prioritize food and veterinary attention to the dogs, and the projects get delayed, but we keep working and still going strong at it."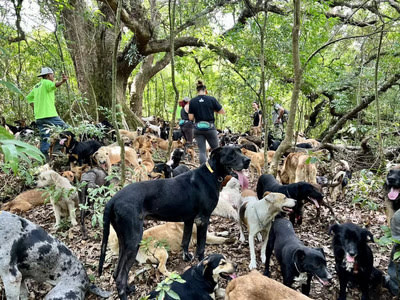 The day is not far off when Land of the Strays will once again welcome visitors. When that moment arrives, anyone traveling to Costa Rica should seize the opportunity to experience the joy of being surrounded by over a thousand adorable dogs, making it a true canine paradise.