The cute kitten was born with broken back legs and was abandoned by his mother shortly after birth. His mother is said to have realized there was nothing she could do for him and thought he would not live long in this world. Her natural instinct was to abandon him and concentrate on the kittens who had a chance of survival.
Fortunately for Max, the staff at Massapequa Pet Vet work tirelessly to give sick animals a second chance at life. They are a team of very competent veterinarians who make certain that the animals in their care receive the treatment they require, and they were delighted to assist little Max.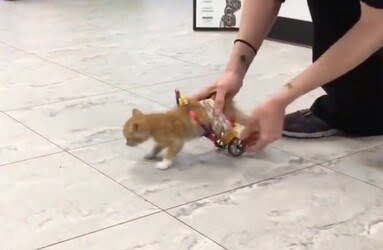 Max managed to live on his own for a while after his mother abandoned him, but his time was running out. Then, a kind person found him on the street and took him to Massapequa Pet Vet's knowledgeable staff. His life would be irrevocably altered by this.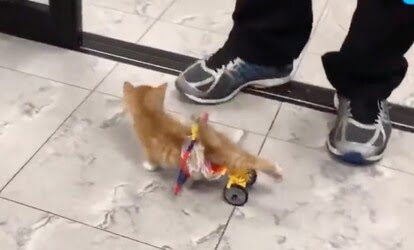 The medical professionals opted to provide him his very own kitty-wheelchair after promptly determining that something was wrong with his legs. Max zipped back and forth across the room using his front legs. He was ecstatic. He now wasn't constrained by his broken back legs. He had the same range of motion as any other kitten.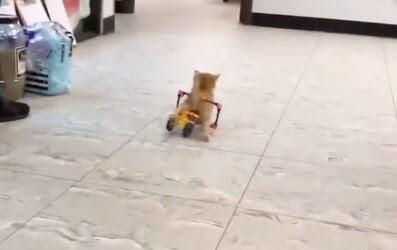 In order for Max to utilize his new chair to the fullest, the vets are now working with him to strengthen his muscles and activate his nerves.
His exercise routine includes pole climbing and water exercises. Max is developing the muscles in his front legs, which are essential for him to be able to pull himself forward. He does this by climbing the pole, jumping onto and off of the pole, and practicing hanging from the pole.
The aquatic workouts allow Max to train his muscles without overtaxing them while also assisting him in relaxing his muscles. His water workouts may also aid in giving him sensation in his rear legs, according to the physicians.
Whether or not Max ever experiences any sensation in his rear legs, his future is bright because of the hardworking medical staff. He can move around, play, and explore in the wheelchair, and because of his powerful front legs, he can even drag himself around without the wheelchair. Max is ecstatic beyond words.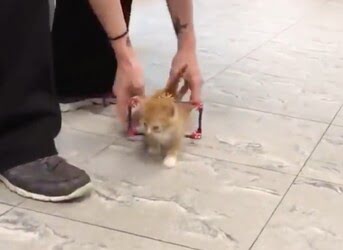 Despite having such a challenging beginning to life, Max can now play and have fun like any other kitten. He has a ton of toys at his disposal and can play with other kittens his age. He seemed to be having the time of his life as he rushes around the clinic.
Max will keep working out, and no matter what, he will get to grow up and lead a full and fulfilling life.
Watch the following video to see Max in his wheelchair: