Although it is common knowledge that birds enjoy singing, Tico is a unique parrot. In actuality, he shares his owner's passion of rock and roll. Nobody will demonstrate the extraordinary capacity of an Amazon parrot to replicate sounds better than this rocker. Amazon parrots are renowned to be exceptionally sociable and playful birds.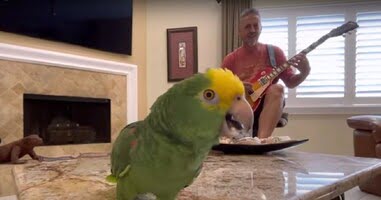 You may listen to recordings of the well-known musical duo Tico and his man on YouTube. Tico enjoys both Zeppelin and AC/DC very much. More than 2.5 million people have watched the viral video in which he "freaked out" to the song Stairway to Heaven.
Tico is a free-spirited bird and doesn't like to sing according to a template, but joins the rhythm in his own style and croaks in a high pitch, which even the biggest rockers wouldn't be ashamed of, and sometimes he likes to throw in his name or simply croak "baby".
Tico & The Man Frank Maglio have 260k subscribers on YouTube who can't wait for a new video, and we leave you with this hit, which is sure to put a smile on your face.