The birth of a Newfoundland pony is always special, as only about 450 of these ponies are alive today. The latest addition to the herd, a filly named Salty, is believed to be only the fourth born this year. Salty is joining a long-standing and loved herd as part of the ongoing efforts to preserve the breed.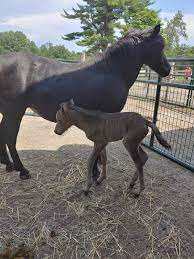 In the 80s, the population of Newfoundland ponies in Newfoundland, Nova Scotia, and Ontario fell to a record low of 100, leading the government to designate them as "heritage animals." This means that the ponies cannot be exported without proper permits, and the Newfoundland Pony Society intensified its efforts to save the breed.
Last year, Sarah Kean decided to join the cause and had her mare, Belle, become pregnant. The 11-month wait for the foal's arrival wasn't easy, as Belle became increasingly irritable during her pregnancy. Despite the family's preparations to help with the birth, Belle had different plans and gave birth to Salty on her own one Sunday morning.
Salty is now healthy and happy, and her mother, Belle, is enjoying motherhood once again. The Newfoundland Pony Society aims to keep spreading awareness about the worthiness of saving these ponies, known for their thick coats and tails that enable them to survive harsh weather. Although they are still endangered, the future of the breed looks bright.