Meet Einstein, The World's Smallest Stallion!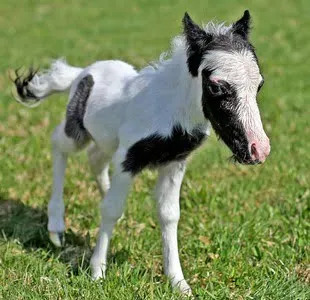 Einstein is the smallest stallion in the world. He weighed six pounds and stood fourteen inches off the ground when he was born on April 22, 2010. That's a lot less than the usual weight of a newborn thoroughbred horse, which ranges from 150 to 200 pounds.
Einstein gave birth to two other champion miniature horses. His mother was 32 inches tall, while his father was 30 inches tall.
Rachel Wagner, his co-owner, was astounded by his lack of dysmorphic characteristics when he was born. "This little boy is like all horses – he's almost all legs. "He is a pretty perfect-looking tiny boy, not at all dwarfish," Wagner continued.
When he was born, the world was taken away by his tiny and, simply, lovely stature. People from all over the world came to see this tiny stallion in his hometown of Barnstead, New Hampshire.
 Miniature horses have found a new job in providing comfort, care, and assistance to children, the terminally ill, the elderly, the blind, and people living with mental health issues.
However, while they often work and interact indoors, miniature horses are still horses. They will have the best chance of living a healthy, happy life by being raised outside.