Farmer Magnús Ásgeir Elíasson from Hvammstangi suddenly felt the need to check on his horses. Magnus arrived to his pastures to find a sizable herd of his horses trapped in the snow; it was a good intuition. He informed Vsir that, fortunately, he had come just in time to bring everyone to warmth and safety.
Evidently, something snapped in him when he finished the morning meal. "I felt someone stop me as I was making my way into the house and tell me to go check on the horses. When I turned back and gazed up to the mountain, I spotted my herd, Magnús explained.His horses were freezing in the snow.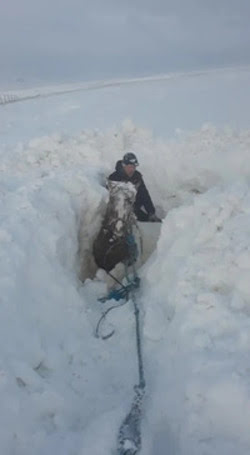 Magnus carefully pulled each of his horses from the heavy snow. It was challenging and risky task. He lifted snow mounds away from his herd's bodies, aware that one false movement might bury him . The patient horse owner rescued his animals after a while, and he then watched as they moved cautiously into the barn where they would be secure.
Magnus realized one of his horses was gone after making sure the majority of his horses were secure. The horse may have gotten away before the snow became too thick, but that wasn't the case. Magnus discovered the tiny horse totally buried in the thick snow. He had no idea how long the horse had been stuck, but he was aware that he needed to act quickly.
Thankfully, other neighbors arrived to assist in digging up the horse. With shovels, they carved a path through the snow so the horse could exit. The horse's body was now free, and they were able to move the frozen mare to safety using a tractor.Thankfully, no animals got harmed in the end.