The birth of a rare white male buffalo calf in May has brought great significance to the community. The calf's mother, also a white buffalo, was born in Winnipeg's Assiniboine Park in 2009 and was later introduced to the local herd due to its historical value. Chief Vince Tacan of Sioux Valley expressed that the arrival of another white buffalo calf is a testament to the thriving and enduring nature of their culture and people.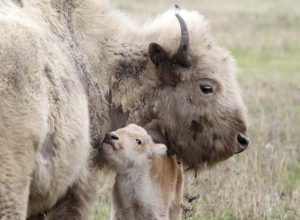 Chief Tacan further emphasized the cultural importance of the white buffalo by stating, "The significance of the white buffalo is that it represents the source of our teachings, culture, and rituals, which we received through the white buffalo calf woman." Many members of the community share this belief and hold it dear.
When Tacan first laid eyes on the calf, he immediately sensed its exceptional nature, although he refrained from announcing it to everyone. As one of the caretakers of the local herd, Tacan has closely watched over their well-being. Since the birth of the young buffalo, visitors from as far as the United States have traveled to witness the phenomenon, offering tobacco in the form of ribbons and pouches that now adorn the fence surrounding the buffalo's enclosure.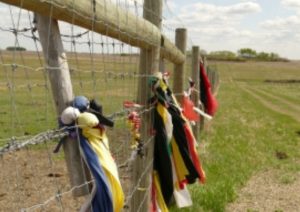 This white buffalo is the first of its kind born in the community's herd since its mother joined more than six years ago. Tacan admitted that he wasn't certain about the odds of a white buffalo being born. While there have been requests to showcase the buffalo at fairs and other events, the community has made the decision to keep it in its natural pasture. Tacan explained, "We consider it a sacred animal, and we believe it should be seen by visiting here." They aim to handle the situation with utmost respect.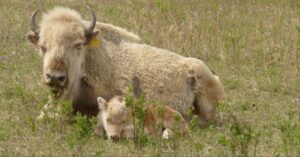 Tacan shared that the buffalo serve as an educational tool for the community as they work on expanding the herd. However, they may explore potential commercial ventures in the future. The buffalo have played a significant role in the past, and Tacan predicted that their importance will continue to be recognized in the future.