The footage captured the moment the bear approached the group of fearless hikers as they took a photo with the animal.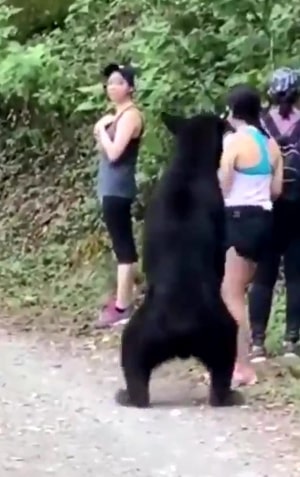 A woman is seen standing motionless while a black bear approaches and sniffs her from behind.Two other female hikers kept their cool as they watched the bear check their friend.
The animal briefly sank to the ground before lurching back onto its hind legs and pressing on the woman.
Meanwhile, the woman promptly took advantage of the incredible opportunity and brought out her phone to shoot a selfie.
The bear stood just long enough for the photo to be taken before descending to all fours and softly batting at the woman's legs twice.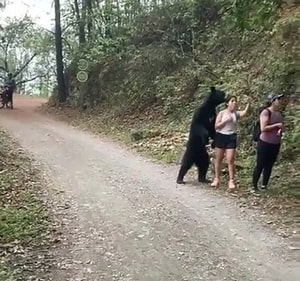 The black bear then wandered away, as the woman and her companions sped away.
The bear's apparent presence of a tag on its left ear, which indicates that it may be accustomed to human interaction, may account for some of its seeming calm behavior.
The woman is being commended for her bravery because she maintained her composure throughout the ordeal. There were no injuries, and approximately 2 million people have seen the video.